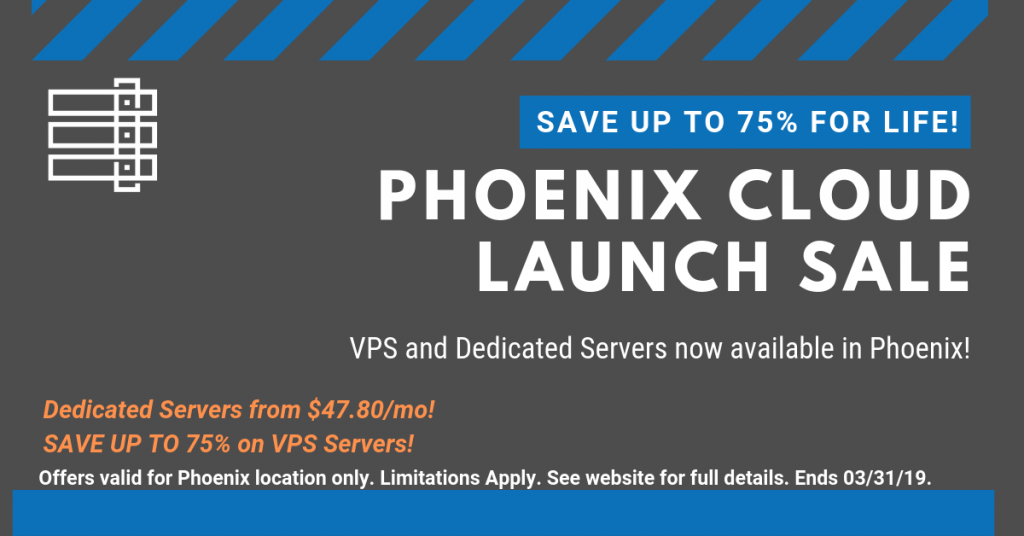 We are pleased to announce that, as of May 1st, the Phoenix Data Center is available for public consumption of KVM VPS servers and dedicated servers. We've been busy building servers since the official launch, and sincerely regret the delayed blog notice.
Clients familiar with our Dallas service will be glad to know we've stocked the Phoenix data center with unique server offerings that can easily be configured to the Dallas network for enhanced administrative experience.
I'd like to point out that, while the underlying technology is the same, we've setup much larger hypervisors than currently serve our Dallas facilities and so we've passed the excesses along to VPS packages.
How does this affect price?
While we expressly set out to offer upgraded service plans and more robust options, we did not want to simply upsell users by force, if you will. We've designed these plans to offer lower cost-per-resource of our existing Dallas VPS offerings.
Characteristics of Phoenix Data Center
The Phoenix data center (known internally as PHX-1) is an Enterprise-grade facility (Tier 3+) that boasts incredible security technologies and boasts highly sought-after Compliance certifications, making it an ideal destination for corporate and medical use.
Some highlights of PHX-1: Carrier-Neutral facility with direct access to lit and dark fiber, 540,000 square feet of enterprise cooling-systems and latest failover-technologies in-built to eliminate catastrophic single-point of failure and provide uninterrupted continuity in the event of the unforeseen. Additionally, network connectivity has already garnered praise from clients we previously only serviced in Dallas. Many users will especially enjoy the optimized routes to ASIAN networks.
In Conclusion
We'd encourage your personal testing of the service to scope out network and performance improvements or suggest any feature or performance requests to our network engineers. In either circumstance we are interested in gathering feedback from users. Clients interested in launching services in the new facility can take advantage of the Launch promotions to secure lifetime discounts of up to 75% off, available for a limited time**.
**Not valid with any other offers. Applies to VPS and Dedicated Servers in Phoenix Data Center only. Offer is limited to inventory on hand. Sale ends 07/31/2019.