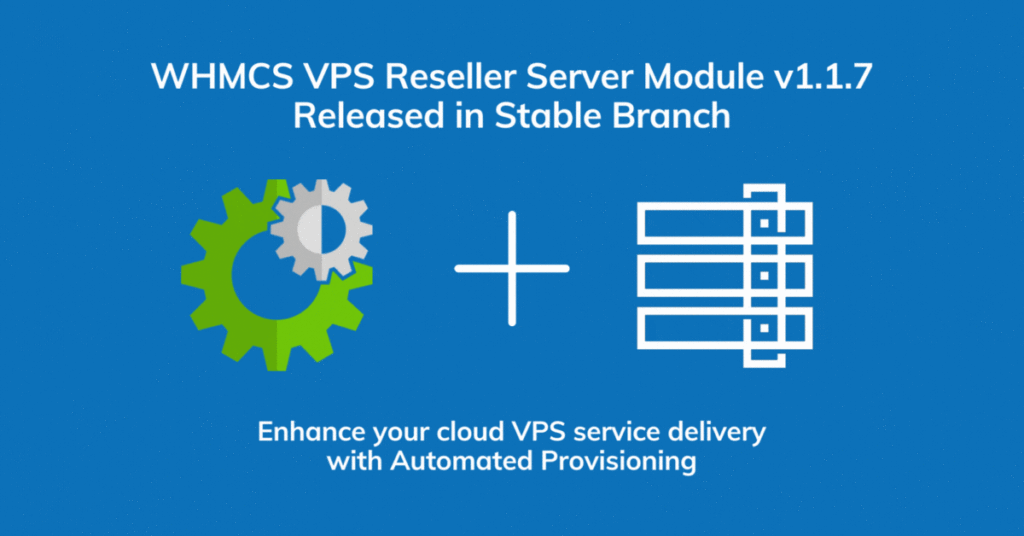 WHMCS VPS Reseller Server Module has been upgraded to v1.1.7 in Stable branch. Remotely and conveniently resell VPS servers with the #1 WHMCS VPS reseller provisioning module. which connects the intelligence of WHMCS billing and management  software with the the cloud VPS infrastructure.
Added Benefits for Cloud VPS Partners
By integrating the VPS reseller module, fully-automated provisioning and sales of your cloud VPS services with from your remote WHMCS is finally possible. Ignite your Cloud VPS business by creating any custom service plans without restriction! If your client requests it, it can be done! Say yes and deliver more value with your existing services.
😃 We are pleased to announce the successful completion of the latest upgrade for VPS Reseller WHMCS Server module to v1.1.7 Stable Branch.
The WHMCS server module provides ability to  automatically deploy VPS servers directly from remote WHMCS, and provide clients with built-in VPS management in their client area. Offer your clients white-label cloud VPS server and instant server deployment with seamless end-to-end service delivery.
Additionally, some API commands may have changed. For a complete list of available API commands, please visit the VPS API Knowledgebase.
What's New with WHMCS VPS Reseller Module?
The latest version (download here)  provides built-in product generation and updated OS template configurable options  integrated to your VPS services automatically (supports new installations only, at this time)
We've also introduced new white-label features for our WHMCS VPS reseller partners to ensure your brand is all your customers ever see, allowing for our partners to truly manage every aspect of their client's experience
New API guides have been posted to our knowledgebase, making it easier to further customize and integrate with the platform.
Applied fix to non-rendering cloud panel features on reseller's WHMCS
Added full support the following languages (for Admins and End-users):

Chinese
Dutch
English
French
German
Polish
Portuguese
Russian
Spanish
Turkish
Ukraine

Take ownership of your client's cloud VPS management experience by registering a free custom Cloud Panel endpoint (i.e. vm1.yourhostingbrand.tld) for your customers to use while using the panel's convenient web-based cloud management interface. Read our latest guide to learn more about customizing the white-label features of your Cloud Panel:
💪 Start Strong! New partners can take advantage of the Startup Assistance Package, which provides a full refund of all VPS reseller costs paid during the first 90 days!
SEE ALSO: How to Create VM via API for VPS Resellers
Changelog:
Fully compatible with WHMCS v8.8
Automatically set default product parameters
Automatically configure demo product
Automatically create configurable options group
Automatically create OS templates configurable option
Automatically create attachable ISO configurable options (updated)
Applied fix for issue: Cloud panel rendering issue in reseller's WHMCS
Fully translated (Admin and End-user) into 11 languages
Applied PHP v8.1 fixes
Code improvements
Contact us for any issues relating to your VPS or updating your WHMCS integrations. Our support techs will be available to provide complimentary update and installation if requested.
Please note that the previous versions of Rad Web Hosting WHMCS modules might be considered deprecated for all intents and purposes.
Please update to this version at your earliest convenience to begin using WHMCS VPS Reseller v1.1.7 module version with latest features and benefits.
For Questions and to Get Support
Please submit a detailed request and our support staff will follow up with you shortly.