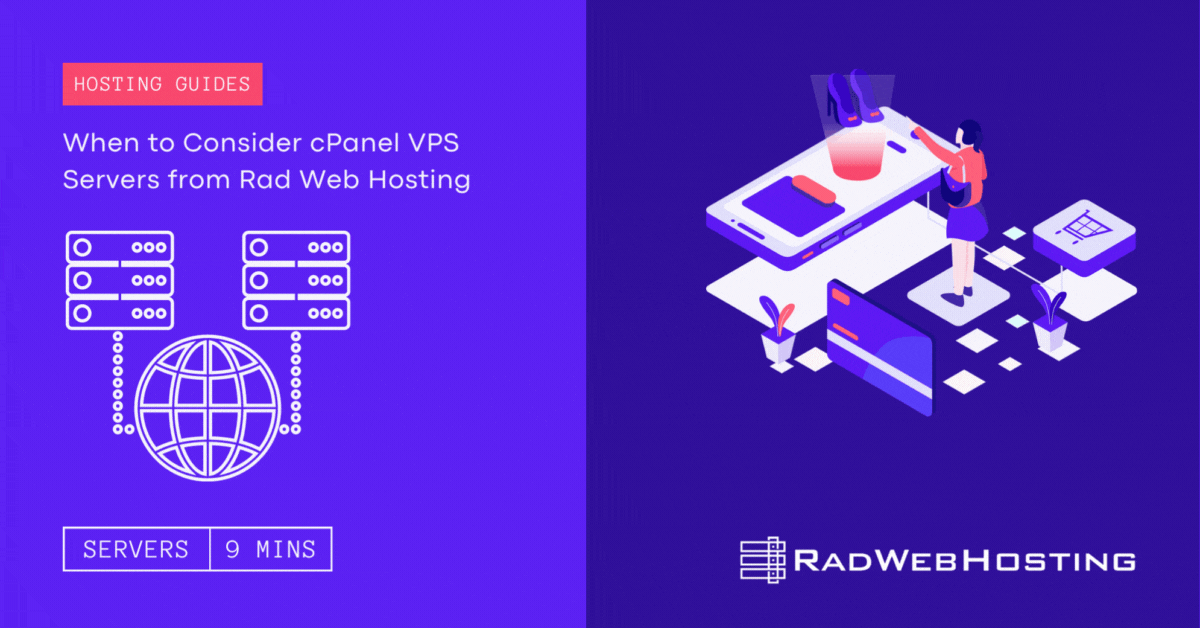 If your website is growing out of the resource limits of shared hosting, you may want to consider a VPS server. It behaves like a small server of your own, with more autonomy and control than a shared hosting plan, but at a much lower price.
Top 5 Reasons to Consider cPanel VPS Servers
When it comes to managing your business-critical server infrastructure for hosting corporate applications and websites, cPanel and WHM (Web Host Manager) interfaces can take some of the guess-work out of the equation. Additionally, cPanel/WHM offers administrators numerous advantages with built-in tools and shortcuts for infrastructure and website management tasks.
Saved time, improved security and uptime, increased performance and other benefits are the most common reasons to consider cPanel VPS servers for your business infrastructure.
Here are some of the top reasons our users choose cPanel VPS servers:
1. Scalability
When it comes to growing websites and apps, scalability is the key to getting more traffic and generating more revenue. cPanel VPS servers from Rad Web Hosting offer the scalability you need without having to sacrifice your site's performance.
Unlike shared hosting, VPS servers are highly customizable and can be scaled up or down to meet your website's needs. This is especially useful when you're dealing with volatile traffic levels.
With cPanel, you can easily control the root access of your server and make any changes you need to fine-tune it for maximum performance and security. This is essential for making sure your site runs smoothly at all times.
SEE ALSO: What is VPS Hosting?
2. Usability
cPanel is one of the most popular hosting control panels, and it offers many features to manage websites. It includes an easy-to-use graphical user interface that makes it easy to modify server settings and manage website files.
Root access is also an important feature of cPanel, which allows users to manage a Linux machine in a way similar to that of a home PC. This enables users to install and uninstall software, change port numbers, tweak security settings, and better protect their websites against attacks.
In addition, cPanel offers a number of built-in resource monitoring tools, such as disk space and bandwidth usage, which help users monitor the performance of their websites. It also supports a variety of plugins, pieces of add-on software that enhance the functionality of cPanel.
READ ALSO: Top 12 Best VPS Control Panels
3. Performance
When it comes to hosting, performance is one of the most important features. It enables a client to add resources to their server as they increase their site's traffic and demand for resources.
This can be done easily through the cPanel interface. In addition, it enables clients to monitor their usage and resource needs.
If you are looking for a reliable web hosting solution with performance benefits, consider cPanel VPS Servers from Rad Web Hosting. This company provides affordable hosting solutions and a wide range of features in every plan.
4. Flexibility
cPanel VPS Servers from Rad Web Hosting are designed to provide the highest level of flexibility. This allows you to make critical adjustments to your resources at any time, as needed.
This means you can scale your web presence as your business grows. Whether you're running a website for a small business or a large enterprise, a cPanel VPS from Rad Web Hosting will give you the performance you need to succeed online.
When you choose a cPanel VPS, you're choosing the most powerful web hosting solution available today. You'll get the most reliable hardware and software, as well as a dedicated team of support professionals to help you grow your site.

5. Security
The cPanel control panel is one of the most popular and widely used web hosting management applications. It contains a plethora of features that allow users to manage everything from server settings and files, to mail servers, databases, DNS, and more.
It also allows users to keep an eye on resource usage and capacity, so they can ensure that their VPS always has enough space for their growing websites.
With cPanel, users can also access a range of advanced security features that will protect their data from threats such as malware, brute force attacks, and much more. They can even set up regular backups of their cPanel account to an external storage location for added peace of mind.
Rad Web Hosting is an official cPanel Partner.