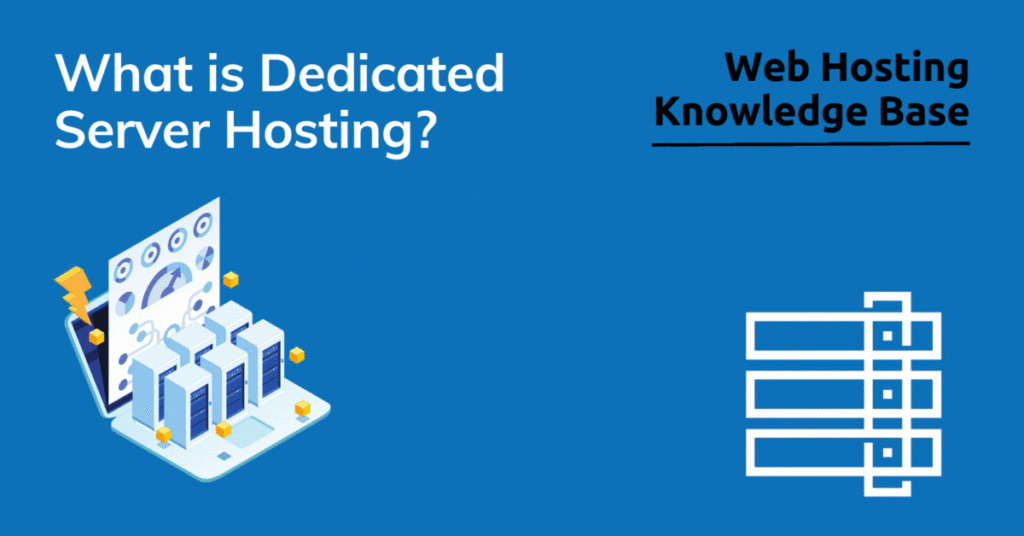 Dedicated server hosting is the ideal solution for sites that receive significant traffic. It offers superior operational flexibility, scalability, enhanced administrative control, and impeccable support.
Dedicated servers also provide optimal security for websites that handle sensitive information. This is particularly important for credit card transactions and other data that must be encrypted.
What is Dedicated Server Hosting Anyway??
A dedicated hosting service, dedicated server, or managed hosting service is a type of Internet hosting in which the client leases an entire server not shared with anyone else.
In order to better answer the question, "What is Dedicated Server Hosting?", we must identify the benefits of this service. Businesses and organizations often face unique hosting and server requirements, especially when dealing with development, privacy, and mission-critical systems.
Below, we provide a synopsis of several key benefits that dedicated server hosting provides to help businesses solve the aforementioned use-cases.
1. High Performance
Dedicated server hosting offers high performance, stability, and control for your important applications. It also helps you manage your IT infrastructure more efficiently.
Unlike virtual hosting, where you share resources with other customers on a shared server, dedicated hosting offers full control over all the hardware and software that runs your website or app. This means you can install updates or tweak settings to get the most out of your server.
Another benefit of dedicated servers is their speed. They allow you to use your server's full capacity, which can help your site load faster. This is especially useful for websites that experience spikes in traffic and need to handle large amounts of data.

In addition, dedicated servers offer greater security and compliance than shared hosting. This is because dedicated servers are not shared with other websites and you do not have to worry about malicious programs or spammers affecting your site.
Furthermore, you can configure your server to meet the specific needs of your business and adjust as your business grows. This gives you the ability to keep your website online during peak times of web traffic, ensuring that you are always serving your customers well.
Dedicated servers can be managed with ease through a variety of features like cPanel and Bare Metal. The best providers will also be able to monitor your server and fix problems before they cause downtime.
Dedicated servers are the ideal solution for businesses looking to increase their performance and reliability. They can be used to power a wide range of applications and ensure that your website is always available for customers to access. They can be purchased with a variety of options to suit the needs of any business, including fully managed servers powered by cPanel or Bare Metal servers that offer complete server control via the command line.
READ ALSO: When to Consider Dedicated Server Hosting
2. Flexibility
Dedicated servers are a great option for businesses that need complete control over the server environment. This allows them to tailor the server to meet their specific CPU, RAM, disk space and software needs.
A dedicated server also allows you to customize security measures as needed, including firewalls and two-factor authentication. This can be particularly important for companies that process credit card transactions or handle sensitive medical information online.
With shared hosting, users share their resources with other websites, which can slow down the server and cause it to crash if there are high traffic spikes. This can lead to higher bounce rates and a loss of revenue for your business.
This is why many businesses choose to go with a dedicated server instead of shared hosting. Dedicated server hosting offers a level of flexibility that cannot be matched with shared hosting.
In addition, a dedicated server offers better security than shared hosting. Using a dedicated server ensures that your site won't be shared with other websites and that there is no risk of viruses or malware on the server.
Dedicated servers provide more power and resources than shared servers, so they are a great option for organizations that experience significant traffic and data processing needs. Having a server that is completely devoted to your website's hosting and data processing needs ensures that you don't run out of bandwidth, memory or storage.
The flexibility of dedicated server hosting also means that you can scale up and down your server's resources as your business grows. Having the option to quickly upgrade your CPU, RAM or hard drive means that you won't have to worry about downtime when you need to add or remove resources.
3. Security
Dedicated server hosting is a great option for businesses looking to grow and scale their online presence. It can help them deal with high traffic spikes and improve page loading times. However, it also requires careful consideration of security measures.
When choosing a dedicated server, it is important to find one that meets your needs and offers robust security. A good host will have top-tier security features and real-time monitoring of your server. They will also offer backup services and a team of security experts to ensure that your data is safe and secure.
One of the first things you should do to protect your dedicated server is to make sure that all your software is regularly updated. This is because it can be easy for hackers to exploit vulnerabilities in outdated software and access your site.
Another way to secure your server is to use a strong password for all the accounts that you create. This will prevent hackers from cracking it and accessing your valuable data.
It is also a good idea to run regular security checks and scans on your server to identify any potential vulnerabilities. These can include faulty servers, outdated software and other issues that could cause problems for your website.
Your hosting provider should also provide you with tools and software to run these security checks on your server. These can include anti-virus software, malware scanners and other tools that will protect your website from a variety of threats.
The best dedicated hosting providers will provide you with a range of security features such as two-factor authentication, firewalls, and constant monitoring. These features can be crucial in defending your data and your company's reputation.

4. Reliability
Dedicated servers are a great way to guarantee your business will always be up and running. They are much more reliable than shared hosting, because they are equipped with enterprise-grade hardware. These hardware components are designed to handle the high volume of traffic that a website can experience.
Another major benefit of dedicated server hosting is that they are completely in your control. You are able to choose the operating system, security features and applications that you need. This ensures that your data and your customers' data are safe and protected at all times.
This can be a big advantage for regulated businesses that are required to keep their information and customer data safe and secure. For example, if you are processing credit card transactions or medical data, you must be sure that your dedicated server is compliant with Payment Card Industry (PCI) and Healthcare Insurance Portability and Accountability Act (HIPAA) standards.
Many dedicated server hosting providers also offer a 100% up-time guarantee on their network. This is largely achieved by securing multiple vendors for connectivity and using redundant hardware. This can help to improve network up-time, particularly if one of the connections goes down or if there are other issues.
In addition, dedicated servers are backed up off-site to protect data in the event of a catastrophic failure. This can be a great way to avoid losing important data, especially when your site is experiencing increased traffic.
Dedicated servers are often fully managed by your host, so you can rest assured that they will monitor system health and proactively respond to notifications. This includes ensuring that your operating system is up to date, patching any problems and updating security patches when needed.
READ ALSO: How to Choose the Best Dedicated Server Hosting Services
5. Scalability
Dedicated server hosting allows users to scale up their servers as needed to handle increased traffic levels on their website or web application. This makes it possible to avoid the possibility of having your server crash or running into downtime.
The scalability of dedicated server hosting also means that you can accommodate new users on your hosted services as they arrive without having to switch to another hosting provider. This is an especially important feature for websites and web applications that receive large amounts of traffic because it can help to maintain their service quality even when there are spikes in incoming requests.
There are two main types of server scaling that you can choose from: horizontal and vertical. Horizontal scaling, also known as a cluster, increases the overall performance of your hosted services by spreading the workload among several servers. This option is typically used by large websites and web applications that are prone to receiving a lot of traffic, such as Google and Amazon. However, this strategy can also be helpful for smaller websites that do not require as much server power to handle their incoming requests.