Discussing the benefits of LiteSpeed Enterprise Web Server, LiteSpeed Enterprise Web Server is an easy-to-use, out-of-the-box solution to enhance website speed and scalability. It features a lightweight event-based architecture that can serve thousands of clients with minimal CPU and memory consumption.
ModSecurity also enhances security by incorporating ModSecurity rules and various anti-DDoS features built into the program. This saves capital while simplifying operations, enabling you to double your Apache servers' capacity without investing in additional hardware.
Faster Loading Times
LiteSpeed Enterprise Web Server is a lightweight and speedy HTTP server designed to reduce your website's loading times. It eliminates hosting hassles and maximizes server efficiency, guaranteeing your website remains accessible even during peak usage periods.
Apache, which is often used for websites, lacks specialized architecture, while LiteSpeed offers several built-in features that will dramatically boost your site's speed. Not only that, but LiteSpeed can also reduce downtime and enhance security on your webpage.
One of LiteSpeed's most useful features is its ability to cap external applications' resource consumption in order to prevent DoS attacks. This enables you to isolate resources from a single application, virtual host or entire web server so they don't disrupt other parts of your system.
Another feature is LSAPI, which can improve dynamic content loading by fragmenting pages into small fragments that are processed separately from the rest of the page. This process can deliver up to 50% faster loading speeds compared to mod_php or other Apache implementations.
Finally, LiteSpeed supports HTTP/3, the most up-to-date version of the HTTP protocol. It's an essential element in upcoming IETF standards and allows your web browser to request content in streams rather than pieces, thus improving client-server interaction.
If you want to take advantage of LiteSpeed's faster loading times, sign up for our free trial and switch over from Apache to LiteSpeed in no time. Furthermore, Rad Web Hosting customers enjoy 24/7/365 expert technical support which makes it easier to resolve problems promptly and efficiently.
LiteSpeed is compatible with a range of control panels, such as Plesk, cPanel and DirectAdmin, plus it has plugins for most popular CMS platforms.
Zero Downtime
LiteSpeed Enterprise Web Server guarantees zero downtime, so you can upgrade your server software without impacting the availability of your website. When upgrading LiteSpeed, new parent and child processes are created to take over service for any connections you may have.
It is a lightweight, event-driven server designed to conserve system resources like memory and CPU cycles without compromising speed, security or compatibility. As such, it offers businesses the perfect solution for cost savings while improving website performance at no additional cost.
The server software is compatible with many control panels, including cPanel, Plesk and DirectAdmin; as well as popular CMS platforms like WordPress. It can be installed and managed through these platforms and includes LSCache – an embedded component designed to provide high-performance dynamic content acceleration.
LiteSpeed can accelerate static pages up to five times faster than Apache and boost HTTPS performance by an impressive three times. Furthermore, its built-in security features protect your server against brute-force attacks and DDoS attacks alike.
Another advantage of LiteSpeed Enterprise Web Server is its capacity for handling many simultaneous requests, making it ideal for high-traffic websites and e-commerce shops. This can reduce support expenses since you won't have to deal with overloaded servers.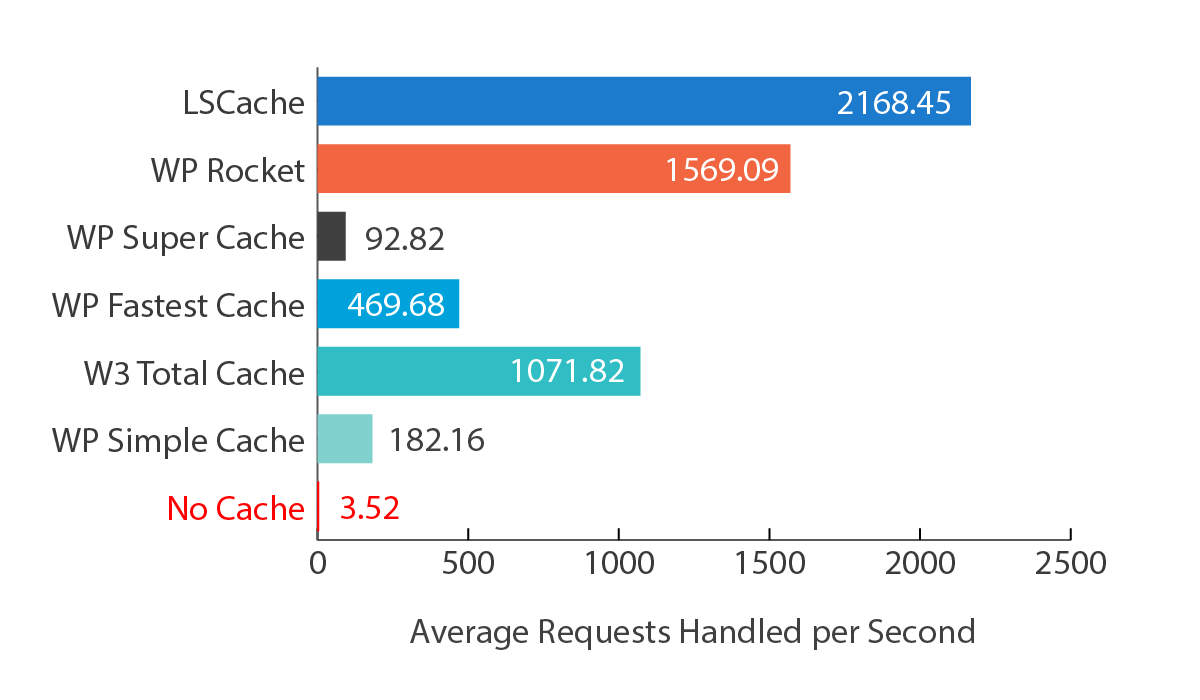 WordPress page speed comparison on a cPanel setup, using both non-keep-alive and keep-alive connections. Our test platforms included: LiteSpeed Enterprise (LSWS) using the popular W3 Total Cache and WPRocket WordPress cache plugins, as well as with our LiteSpeed Cache Plugin for WordPress. Apache using the W3 Total Cache and WPRocket WordPress cache plugins. Our results showed Apache (with keep-alive enabled) peaking around 1,300 and 700 requests per second with W3TC and WPRocket, respectively. With the exact same setup, LSWS with W3TC and WPRocket delivered around 4,800 requests per second, an improvement factor of over 2.6x or 6x respectively. Using the LiteSpeed Cache Plugin for WordPress with LSWS easily handled close to 5,200 requests per second.
In fact, it can easily handle up to 2,000 concurrent connections per second with excellent stability. This means you can handle sudden traffic spikes and expand your server's capacity without needing to upgrade hardware or software.
LiteSpeed is designed for ease of use, meaning installation takes minutes and there's no downtime when switching over from Apache. As a drop-in replacement for Apache, LiteSpeed fully conforms with popular hosting panels so you can switch in less than 15 minutes with no interruption in service.
Concurrent Connections
LiteSpeed Enterprise Web Server can support thousands of concurrent connections without straining its memory or CPU resources, making it ideal for websites requiring high amounts of server processing power.
LiteSpeed Enterprise Web Server not only supports simultaneous connections, but it also gives users control over their server's bandwidth and request rate regardless of the number of connections. This prevents a web server from becoming overloaded with too many requests and maintains network performance.
This software offers a robust selection of security features to shield your site from attacks and viruses. It has an encrypted memory cache, along with file integrity monitoring to guarantee that no changes are made without your knowledge.
The server also features an inbuilt caching system that can accelerate web page loading time. This increases traffic and boosts your ROI.
Additionally, LiteSpeed Enterprise Web Server features per-directory configuration overrides that let you make changes instantly. This is ideal for shared hosting environments with multiple websites hosted on one server.
LiteSpeed Enterprise Web Server also supports SSL acceleration, which can accelerate your website's SSL connection by attaching a pre-approved certificate to the handshake response. This improves HTTPS page performance and reduces strain on SSL certification authorities.
Additionally, LiteSpeed Enterprise Web Server includes OCSP stapling to reduce the number of SSL certificates needed on a web server. This can reduce verification time for an SSL certificate and lower hosting costs.
LiteSpeed Enterprise Web Server is an ideal option for those seeking a high-performance web server that can support thousands of simultaneous connections and provides dedicated support. It's compatible with popular control panels like cPanel/WHM and DirectAdmin, making it simple to monitor your server's performance from any device.

Cloud-Based Instances
Website speed is a vital factor in client satisfaction and, with Google taking into account more than 200 components when ranking websites, fast loading times are also beneficial for search engine optimization (SEO). If your website runs on an Apache server and you want to boost its performance, consider switching to LiteSpeed Enterprise Web Server (LSWS) instead.
In addition to improved performance, LSWS can reduce hardware costs due to its event driven architecture that promotes faster and more consistent response time. Installation is hassle free as LSWS supports popular hosting panels such as cPanel, Plesk, DirectAdmin and Cyber Panel without any downtime.
Another advantage of LSWS is its security module, which effectively shields users from cyberattacks. It can detect and block threats immediately upon detection and also provides anti-DDoS built-in capabilities to guarantee servers remain secure against attack.
LiteSpeed also comes equipped with an in-built cache that can be utilized for dynamic content acceleration. This is a critical feature, since many websites today still rely heavily on dynamic elements.
Therefore, you can enhance your website's performance and ultimately boost business opportunities in the long run. It is especially suitable for websites with high traffic as it keeps the load low while improving user experience.
LiteSpeed is compatible with a range of Linux operating systems, including Fedora, Ubuntu, RedHat and CentOS; however it does not support Windows instances – an issue which may prove prohibitive for some Windows clients who would prefer a more versatile solution.

24/7 Support
LiteSpeed Web Server boasts 24/7 support that is ready to answer any queries you may have. They strive for prompt and efficient assistance – something they take great pride in.
Another advantage of LiteSpeed Enterprise is its compatibility with popular hosting panels, such as cPanel (WHM), Plesk and DirectAdmin. This makes LiteSpeed configurations accessible and allows for easier control.
Businesses must prioritize customer experience when designing their user experience, as a poor user experience can negatively affect customer satisfaction and ultimately result in lost sales. LiteSpeed helps you resolve these problems promptly and efficiently, keeping your customers pleased and more likely to purchase from you again in the future.
LiteSpeed can also save you money by reducing the number of servers needed to run your website or online application. Its efficient event-driven architecture can handle thousands of clients simultaneously with minimal memory and CPU consumption.
Additionally, it has integrated anti-DDoS protection and bandwidth throttling features that protect your site against attacks. This makes it ideal for any type of business that wants to ensure their website stays online as much as possible.
LiteSpeed also boasts the LSCache dynamic content acceleration system, which can reduce page load times by up to 50% compared to Apache. It utilizes an ESI engine to break pages into small fragments and process each one separately from the rest of the page.
LiteSpeed is in sync with common Apache features like mod_rewrite, htaccess and mod_security, so it can load these files directly. As such, LiteSpeed can serve as a direct replacement for Apache while fully supporting popular control panels like Plesk and cPanel.