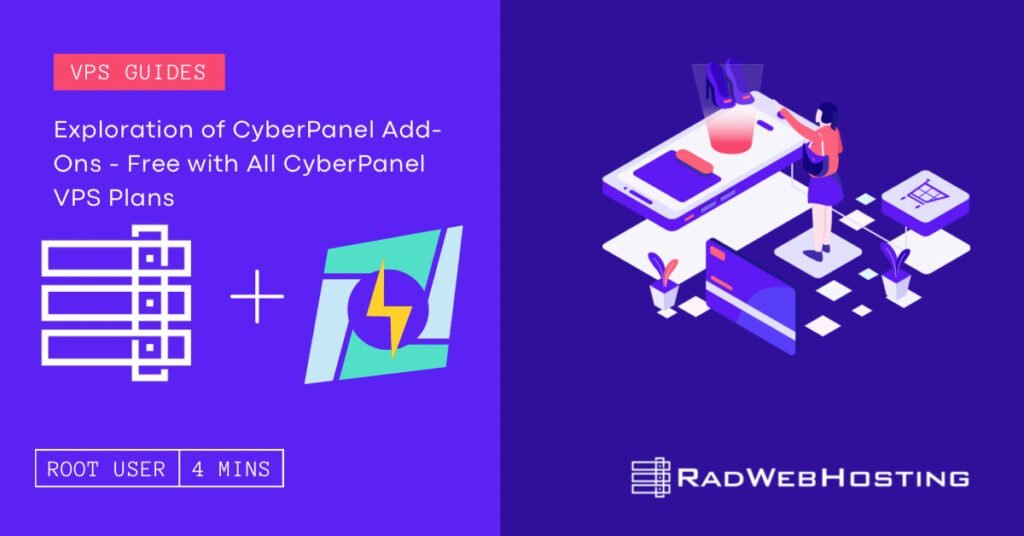 CyberPanel Add-ons
CyberPanel add-ons make managing servers and installing WordPress easier than ever. Built upon the Django framework, its extensibility can be extended with any number of plugins found in its official repository.
All premium CyberPanel addons are now included free with any CyberPanel VPS plans!
It comes equipped with the powerful LiteSpeed Web Server for optimal performance and provides support for cutting-edge technologies like HTTP/3. In addition, there is a built-in cache feature and ModSec integration to protect from hackers.
Rspamd Manager
One of the most exciting CyberPanel add-ons for email administrators is Rspamd Manager.
Running your own mail system on the Internet is no simple task, and one of its major obstacles is spam. Without adequate spam filtering systems in place, email accounts quickly become inundated with fraudulent attempts, malware and alternative facts that make their way through our inboxes.
Most of us turn to SpamAssassin for assistance here but it's worth remembering Rspamd offers additional features not found within SpamAssassin that may offer greater control.
rspamd includes a web interface for users to monitor and configure rules, scores, dynamic lists, scan and learn messages as well as monitor for new spam. It follows modern web application standards while its Lua API offers hundreds of functions that allow for custom rule creation for efficient spam detection.
rspamd stands out from other spam scanners by checking both headers and envelope data of every message in its entirety, which allows it to identify more threats, such as phishing attacks and DKIM signatures. Furthermore, it can be configured to work both with outgoing as well as incoming email.
As well as standard spam detection tools (Neural Network and Bayes classifier), rspamd offers several plugins that can further boost its performance, such as phishing check for filtering out popular phishing URLs and rate limit plugin that blocks messages with high rates of spam or spoofing.
It also features a module to block messages from specific domains or networks, making this especially helpful for large email systems prone to being overrun with spam from bots and automated sources. Another useful plugin is the map, which enables filtering based on different attributes such as headers, envelope information and sender IP address – live editing via the web user interface can take place instantly for immediate changes to take effect.
WordPress Manager
WordPress is one of the world's most beloved web platforms, enabling users to build and manage websites quickly and effortlessly. Its plugin ecosystem offers users a means of adding functionality without hiring developers or depending on third-party apps – something many website users find especially appealing.
SEE ALSO: Create WordPress Staging Site for Testing and Development
The WordPress Manager is an efficient way of monitoring and assessing the performance of your website. It shows you how your web server is faring and allows instantaneous changes. In addition, this plugin gives you access to Google Drive or another storage location so you can back up and restore databases or files easily as well as providing advanced security measures to keep your site safe.
CyberPanel WordPress Manager makes managing your WordPress website straightforward. Simply use its intuitive features to easily add, edit, delete, upload/download files as well as compress/decompress them as well as view database contents using this powerful tool.
Also included with it are various other features to help your site run smoothly, including support for LiteSpeed Caching to ensure optimal performance and low latency, ModSecurity integration for protection against online threats, as well as CSF and ModSecurity protection against attacks on your site.
CyberPanel WordPress Manager provides an all-in-one solution for managing WordPress sites, from FTP accounts and databases, to automatically logging you in for phpMyAdmin. Furthermore, its comprehensive user management system enables you to create roles for each individual user in your domain.
Google Drive Backups
Google Drive is a versatile cloud storage solution, ideal for individuals and businesses alike. With numerous tools for backing up files to Google Drive and restoring them to local devices, it provides an effective backup/restore process – giving you peace of mind should any data loss incidents arise while also helping avoid manual methods of restoration. However, before beginning use of this cloud storage option it's essential that users first understand its workings so as to prepare themselves adequately in case any are lost due to mishap.
SEE ALSO: Backup WordPress Site to Google Drive Using Softaculous
Google's Backup and Sync tool automatically saves your files to the cloud, making them accessible from any device – from mobile phones and PCs to Macs. Furthermore, this program synchronizes any changes made locally with changes online for seamless file management.
Another way to backup Google Drive is to download and store copies of all of your files on a hard drive, either regularly or as needed. Also make sure that at least two external drives or USB sticks contain your data; this will protect against data loss events destroying it all at once.
Thirdly, to protect the files stored on Google Drive you can utilize an external backup and restoration service. These services offer protection from cyberattacks or human errors while offering transparent reporting with detailed insight into backups.
As a business, having access to an effective data backup and restore solution is absolutely crucial. Not only will this safeguard against cyberattacks and human error; it will also allow you to comply with industry regulations. Plus, having this peace of mind should you ever lose a file will give you peace of mind!

Root File Manager
Root File Managers provide Android device users with a tool for efficiently managing files and directories on their rooted Android device. Users can create backup copies, transfer files between their smartphone or tablet and computer, clear out app cache and wipe off personal information, as well as restore their system into recovery mode using this tool.
There are various root file managers on the market; some are free, and some paid. When selecting one for use with your operating system and featuring an intuitive, clean user interface. Furthermore, it must be capable of handling large files while supporting multiple cloud storage services.
FX File Explorer is an award-winning root file manager which comes equipped with several essential downloadable add-ons, including root support, network file management (WebDAV, SMB and SFTP) and sync support for SugarSync, Dropbox and Google Drive cloud storage services. In addition to having dual panel views that enable drag-and-drop, its drag-and-drop functionality provides additional benefits.
This root file manager is extremely user-friendly and comes equipped with many useful features, ranging from editing files, sending them via email, executing scripts and changing app permissions and ownership to lightweight fast speed – perfect for people who frequently switch computers – being compatible with both Windows and Mac OS X operating systems.
Apache as Reverse Proxy
Another of CyberPanel Add-ons is Apache as Reverse Proxy. Reverse proxy servers provide users access to servers within private networks from external networks like the internet. A reverse proxy can protect a server against attacks while providing extra layers of security; they also improve performance by decreasing server loads and load times.
Nginx and Apache are widely used as reverse proxy servers for web applications, offering excellent performance serving static content with Apache's dynamic PHP processing to provide maximum security without compromising compatibility. When combined in this configuration it offers enhanced performance while still remaining compatible.
Reverse proxy servers work by intercepting requests and then forwarding them on to the relevant backend server based on various criteria, including load balancing and server health. They can also cache frequently-accessed content to help reduce traffic on backend servers while improving response times.
Apache HTTP Server can be configured as a reverse proxy by adding the ProxyPass directive to virtual host configuration files, specifying which URLs or paths should be redirected through it, as well as using its priority-based PriorityPriorityInherit option (introduced with Apache HTTP Server 2.4.5 and later).
Reverse proxy servers can perform other duties as well, including acting as content delivery networks (CDN), which reduce website loading time by caching content near user locations, load balancing (distribute requests across multiple servers to prevent one server becoming overloaded and increase uptime), SSL/TLS termination (add an extra layer of security to web apps), etc.
Related