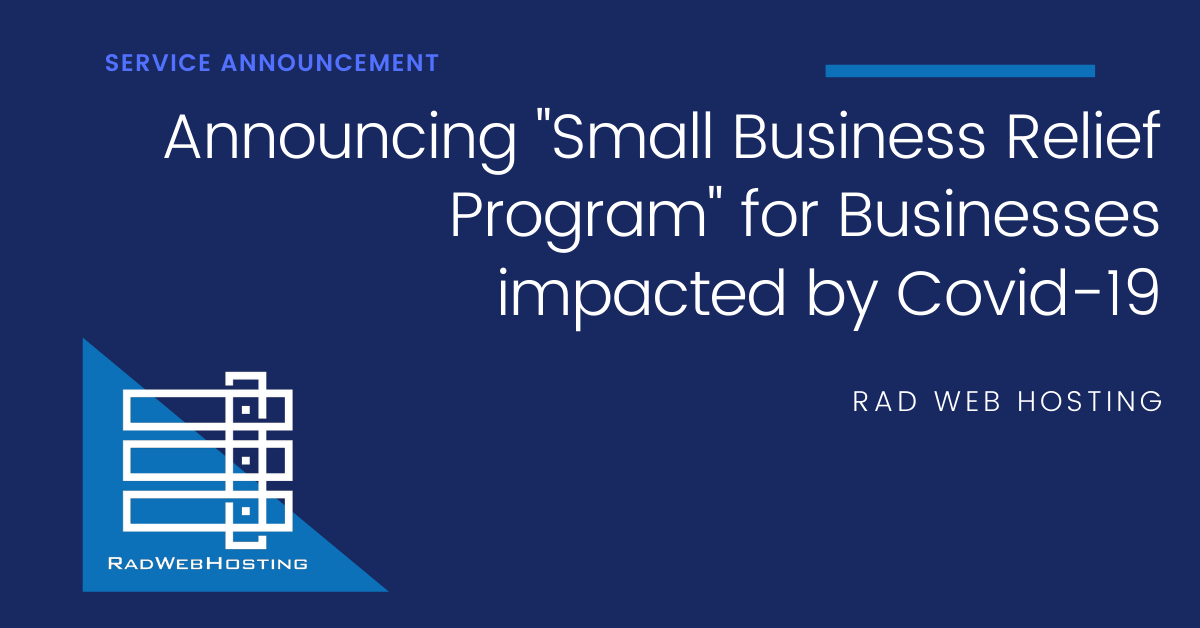 Rad Web Hosting has enacted the Small Business Relief Program, effective immediately, to assist businesses impacted by Covid-19 health and economic crises.
DALLAS, TX JUNE 30, 2020 — We are announcing Small Business Relief Program for businesses impacted by Covid-19 worldwide pandemic, effective immediately,  to offer assistance with Web Hosting and VPS Services for up to 12-months (details outlined below).
Impact of Covid-19 on Small Business in America
For small businesses, the COVID 19 global health crisis is now causing financial crisis.
According to a study conducted by Main Street America, many small businesses are at risk of  permanent closure without immediate financial assistance.
As local and state governments issue a second-round of mandatory shutdowns across the country, the businesses are unsure of the future and in need of financial assistance.
Rad Web Hosting has provided web hosting services to small businesses across the country for over 5 years. gaining first-hand awareness of the impact that COVID-19, mandated business closures, and fewer clients has left on small business owners.
On Tuesday, June 30, Rad Web Hosting enacted a Small Business Relief action-plan and assistance program to help out small businesses during uncertain times.
As part of the Small Business Relief plan, clients will receive ANY web hosting, reseller hosting and VPS hosting plans at half-price for up to 1 year, to assist with the financial burden of web hosting and VPS service costs.
"We hope to provide a layer of relief for small businesses across the country that are being faced with difficult scenarios, and hope we can help in some way, now, and on the road to eventual recovery." Rad Web Hosting Founder, Scott Claeys, said Tuesday.
Characteristics of Small Business Relief Program
Business owners needing assistance are urged to visit Rad Web Hosting to receive Small Business Relief benefits, listed below:
50% off ANY web hosting, reseller hosting or VPS Server hosting
Assistance is available for 1-month, 6-month, or 12-months-(Small Business's preference)
Free setup and migration assistance for smooth transition
Automatic Repayment Forgiveness for Small Businesses receiving assistance
Benefits of enterprise-grade networks and industry-leading secure data centers
Option to continue hosting after the Assistance period to ensure web presence continuity
No fine print-Businesses can choose their service, duration of assistance pricing, and have full cooperation and assistance of Rad Web Hosting staff and Support teams
-To activate Small Business Assistance relief, users should provide the following promotional code when during sign-up:"SMALLBIZRELIEF"
Subscribe to our newsletter!