In this guide, we aim to answer the question, "What is Reseller Hosting?" Reseller Hosting is a highly-popular service that enables hosting resellers, freelancers, agencies, and others.
What is Reseller Hosting?
Imagine owning a condo or house and renting out rooms to individual people; that is the same principle behind reselling web hosting.
What is Reseller Hosting? Reseller hosting provides you with the ability to host multiple websites on one account and then resell access under your own branding to others. When selecting a reseller host provider it's important to keep several key considerations in mind.
How Does Reseller Hosting Work?
A reseller hosting business can be an easy and lucrative way to generate steady income. Setup and management are straightforward; customers can purchase hosting packages tailored specifically for them from cheap, yet reliable hosts like Rad Web Hosting. However, key to its success will be understanding your target market's requirements before developing a strategy and plan of action.
Reseller hosting involves selling access to server space that you do not own or manage, thus reducing both risk and costs while remaining responsible for customer support, billing and allocating resources for clients. Reseller hosting tends to attract web-based businesses with established clientele bases as customers for this product are already established.
Reseller hosting can be used as an additional revenue stream and client acquisition strategy, giving your web design or development studio access to new types of customers and revenue sources.
READ ALSO: What is VPS Hosting?
Start your reseller hosting business right by finding a reliable host. Look for providers offering reseller programs with money-back guarantees as well as tools such as cPanel or WHMCS which provide tools used for managing clients, billing and resource allocation; these software suites can streamline business processes while helping increase profits.
Another essential step is securing hosting packages and setting prices. Once this step has been accomplished, create a user-friendly website and devise a marketing strategy to drive visitors there – this will enable sales and increase your revenue stream.
Once your business is up and running, it is crucial to monitor its development and growth. A great way of doing this is setting goals and milestones for your business; this will allow you to determine if all your efforts are paying off; alternatively you could use analytics or reporting tools such as QuickBooks Online to track revenue.
To maximize profits, it's advisable to employ marketing strategies that reach as many prospective customers as possible. For instance, social media promotion or influencer outreach might work. Referral and affiliate marketing can further boost revenues.
Is Reseller Hosting Profitable?
Reseller hosting can be an easy and lucrative way for freelancers to provide clients with solutions while earning some income themselves. Furthermore, reseller hosting allows freelancers to offer additional services like website maintenance, software updates, customer support without incurring the upfront costs associated with traditional servers and staff members.
As with any business venture, success in reseller hosting requires an in-depth knowledge of its market and an action plan that takes account of any expenses that may arise. Furthermore, time investment in this endeavor can have an enormous impact on earnings potential.
Reseller hosting plans are typically scalable, giving you the flexibility to scale as your client list expands – an excellent solution for freelancers seeking a flexible working arrangement.
Another key aspect to keep in mind when starting up a reseller business is the software provided by your host. Many reseller plans come equipped with WHM (Web Host Manager) or cPanel that enables you to set up and manage hosting accounts of end clients, giving the impression of being their actual hosting provider and justifying higher fees from them.
An additional tip when searching for reseller hosting providers is selecting ones who provide 24/7 technical support, so your customers have access to help in case issues arise.
Cost-effectiveness
Reseller hosting can be an inexpensive solution for companies to offer web services to clients, enabling businesses to purchase server space from a third-party host and then rent it out to clients at reduced costs. While reseller hosting may offer your business potential revenue opportunities, there are certain things you must take into consideration before offering reseller hosting as a solution for clients.
As part of your plans to establish a reseller hosting business, the initial step should be gaining an in-depth knowledge of both your industry and clients' needs. Doing this will enable you to identify trends and demands from clients while simultaneously developing a unique selling point that differentiates your service from those offered by competitors. Also keep an eye on competitor prices so that your rates can adjust accordingly.
Marketing and branding are also critical in the success of your reseller hosting business, ensuring customers know about your services while building your reputation. To promote these, use online channels like social media and SEO. For even greater exposure, hire a web developer who can design a site specifically tailored to meet both brand image and client requirements.
As a web designer, reseller hosting should be part of your service offerings. This will allow you to easily manage both client sites and hosting accounts simultaneously, making any technical issues simpler to address quickly while creating a steady income source.
Reselling hosting is ideal for individuals with an established clientele and experience with website development or design, or marketing professionals with expertise in specific niches. Reselling can provide them with access to the clients that meet their criteria while creating customized web portals tailored specifically for them.
Reseller hosting can be an attractive business opportunity for those with the right qualifications, but keep in mind that reseller hosting provides limited server control and can be costly when hosting large websites that receive many visitors every day. Therefore, it is suggested to begin with smaller packages and upgrade later to VPS or dedicated servers as your needs dictate.
Scalability
Reseller hosting is an attractive solution for businesses seeking to expand their client services, as it enables them to offer customized plans at reduced costs than competitors, along with other advantages like scalability, branding and technical support. Furthermore, reseller hosting gives companies an edge by positioning them as end-to-end service providers within the web hosting marketplace.
Resellers offer additional services such as site setup, backend administration and software installation that may appeal to clients seeking comprehensive digital solutions. Many resellers choose to partner with providers of end-to-end services such as web designers and developers to offer clients one central point of contact for all of their digital needs.
As a reseller, you have the opportunity to buy fully managed server space from an established provider and then resell it. This business model requires minimal capital outlays for infrastructure or hardware investments while risk of failure is greatly reduced since you won't have to operate your own network of servers – making this an attractive proposition for entrepreneurs looking to enter the hosting industry without risk of capital loss.
Reseller hosting can be an ideal way for individuals or businesses to enter the web hosting industry without incurring significant startup costs. Furthermore, reseller hosting provides website designers and developers an effective means of offering comprehensive packages which include both web design and hosting as one solution to their clients.
To be successful as a reseller, it's crucial that you find an appropriate host. When searching for hosts with SSD storage and premium bandwidth as well as white-label branding and cPanel for you and your clients, WHMCS may be an ideal option as a client billing system to manage subscriptions and invoices easily.
READ ALSO: How to Link Your Reseller Server to WHMCS for Automated Provisioning
White-labeling
White-labeling allows you to build your own hosting brand and sell services under it, which is an effective way to both make money and increase customer loyalty. However, getting started can be challenging, requiring marketing your products/services effectively as well as building websites, reliable billing systems, client support teams, and finding a suitable parent host – which may prove costly and time consuming processes.
Attracting customers to your reseller business can be difficult. To do so effectively, you'll need to promote it via various channels like cold outreach, social media ads and paid search engines – in addition to creating an organic content marketing strategy and developing organic SEO tactics. Finally, managing it properly for maximum success requires significant time and resources – but could bring big returns!
Operating a reseller hosting company can be rewarding but presents unique challenges. Web hosting requires technical know-how and dedication, which require building a solid support network and offering 24/7 technical assistance to your customers. You should focus on offering high-quality hosting plans to your clients while keeping an eye on support ticket volumes and resolution times to ensure customer satisfaction with your services.
White-label hosting providers are essential in building a profitable reseller business. White-label hosting allows resellers to establish their own brand and create customized experiences for clients – this may involve customizing features and offering special prices not available elsewhere. When selecting such a provider, be sure to look for one with excellent uptime records and proven results.
White-label hosting solutions are ideal for designers, developers, firms and other online businesses that support client websites as well as anyone seeking to break into web hosting without spending too much time or money on setup costs or time on management tasks. Rad Web Hosting offers white-label reseller packages which include everything necessary for starting up your own hosting business.
READ ALSO: How to Start a Successful Web Hosting Business
24/7 Support
When selecting a reseller host, look for one with 24/7 technical support. This is essential if your clients require help with technical issues; saving both time and money by not needing to enlist support services yourself. Ensure your provider offers phone, email and chat support and has an extensive knowledge base – along with communicating any scheduled downtime in an effective manner.
As part of starting a reseller hosting business, the first step should be securing a domain name and creating a website that showcases your brand. Next step should be creating a system for managing client inquiries and subscriptions using tools such as reseller hosting with free WHMCS. Finally, creating an effective customer management and billing dashboard on your website would further assist your growth as a reseller hosting reseller business.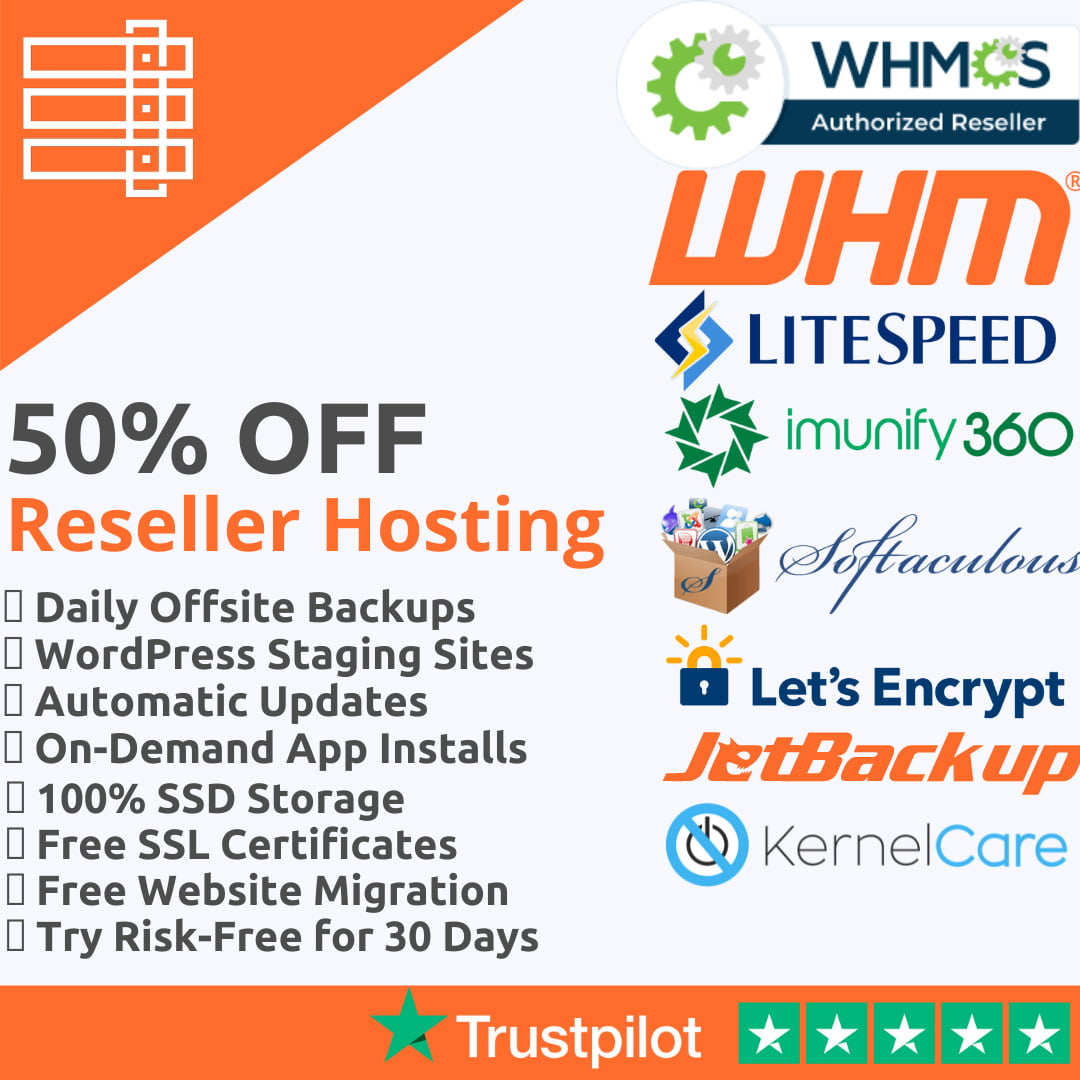 Starting a reseller hosting business may not be difficult, but it does require research. A great place to begin is searching for hosting providers with positive reviews on online review sites as well as asking current or former customers how they rate the host in question. Once you find one, sign up for their starter package to maximize its benefits.
If you're considering starting a reseller hosting business, it is wise to first create a business plan. Doing this will enable you to plan how your business will operate as well as decide what services will be provided to clients and how much capital to invest into this endeavor.
Reseller hosting provides designers, developers and SEO specialists an efficient means of providing web hosting services without owning their own servers. Reseller hosting allows these businesses to offer hosting to clients at discounted rates while still making a profit.
Rad Web Hosting offers reseller plans with unlimited bandwidth and storage as well as free account migration. Furthermore, these reseller plans come equipped with uptime guarantee and 24/7 customer support as well as cPanel/WHM so you can manage multiple accounts on the same server.
Conclusion
We hope this article has been helpful with helping you understand the answer to the question, "What is Reseller Hosting?" If you have any questions, please feel free to contact us.